Space 1
Download our Space 1 information leaflet
Our original sensory room, all soft padded on two levels connected by a slide and stairs with specialist lighting and sound themes controlled by ipads, led lighting, ball pool, water bed, swing, sound box, bubble tubes, UV lighting, cameras,textures, projection and a fibre optic hut with musical steps.
Hoisting is available in the under mezzanine area.
Charges – £40 an hour for groups with special needs. (single use £35)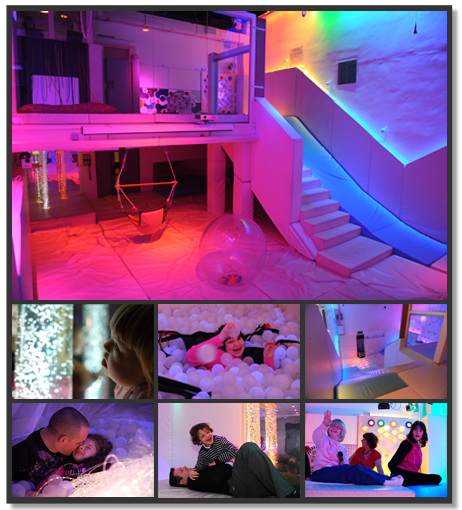 Equipment includes:
Theatre lighting to set the scene
Advanced light/sound system which allows the user to select appropriate themes
High quality sound system with three zones to enable different activities in different parts of the environment
Data projectors to project DVDs and other images
Cameras to allow clients to watch themselves through projection
Slide and stairs for movement and fun
Bubble tubes for relaxation, visual and tactile stimulation
Ball pool for movement and body image
NEW – Light and sound floor to stimulate reaction and memory
workSolar 250 projectors for visual stimulation and theme work
Fibre optics for visual and tactile stimulation
Swing for vestibular stimulation
Water bed for relaxation
Fibre optic hut, a magical hideaway
Wind machine, a different stimulus
UV light and fluorescent materials for visual work
Tactile walls
Individual sensory boxes for specific sensory work
Specialised switches for most of the above equipment to give control to the client
NEW to Space 1 – A 16 panel interactive light and sound floor.
Instantly responsive, the floor can be used by anyone of any ability  to encourage developmental, memory cognitive and physical skills whilst having fun. Coloured panels light up and produce notes and sounds just by stepping, laying or rolling on them.  A range of games with spectacular audio and visual effect encourage individual and co-operative interaction, each with different levels of difficulties.