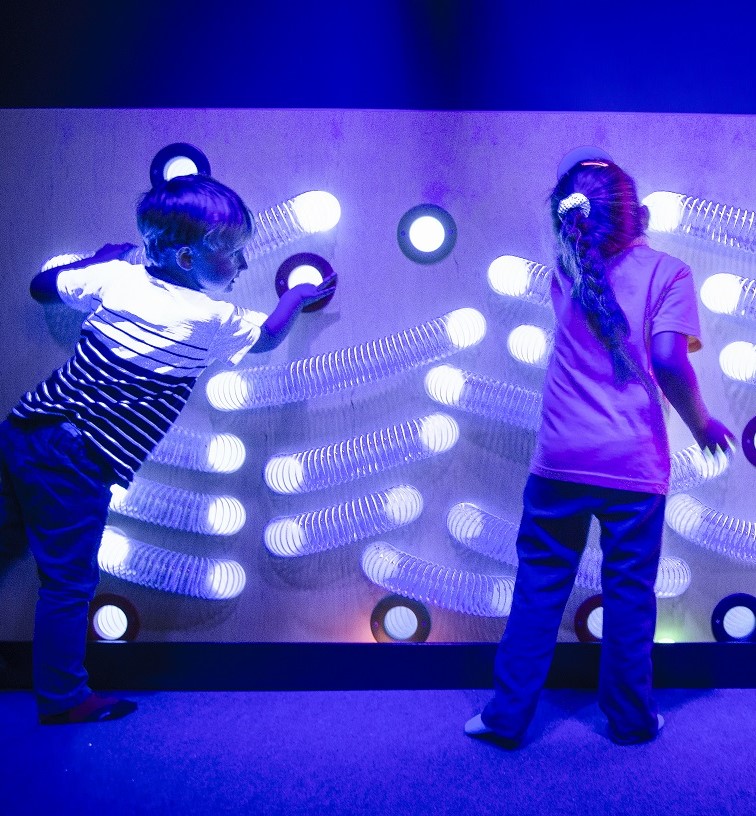 ABOUT US
Creative Space Centre
The Creative Space Centre is the largest multi-sensory Centre in the UK, providing sensory support to those with additional needs for 30 years. The Centre is the only one of its kind, using state of the art lighting, visuals and sound equipment to create a fully tailored sensory experience for our service users.
We have over 700 visitors a week from a variety of backgrounds, including special schools, day Centre's, nursing homes, support groups and much more. The rooms can be tailored to suit the needs of the clients, helping them to achieve their goals during their session, this can be relaxation, exploration, learning or fun.
CONSTANTLY EVOLVING
Bespoke Experiences
Our Centre is constantly evolving, with the aim of creating bespoke experiences for those with additional needs, their carers and families. In addition to the private sessions available, we also provide shared sessions for children, teens and adults with additional needs at a heavily reduced rate and the sensory room can be hired for parties.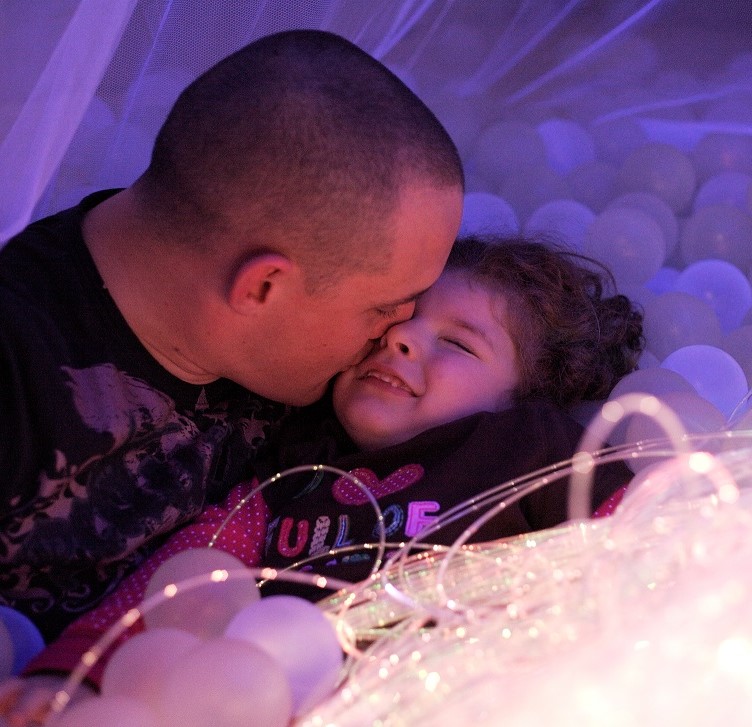 EVERYONE IS WELCOMED
Who can use the Centre
Creative Space Centre is available to anyone with special needs. It is adaptable to meet the needs of many different clients whatever their age.
Space is used regularly by those with autism, developmental delay, cerebral palsy, learning disability, profound multiple learning difficulties, challenging behaviours, brain injury, emotional difficulties, mental health issues, stress and anxiety.
Individuals or groups attend with their own families, carers, therapists or teachers. Our staff are always available to give advice on making the best use of Space and its equipment. Specific training sessions can be arranged and individual assessments of sensory abilities undertaken.
Although our priority is to help those with special needs, we do have some availability for non special needs groups. Please ring us on 01772 760 403 for more information.
GOT A QUESTION?
Frequently Asked Questions
Who can use the Centre?
Anyone with any special/support needs of any age. People without special needs may also book the sensory rooms.
What are the opening times?
We are currently open 7 days a week and groups can book from 9am with the centre closing at 9pm.
How long are the sessions?
Usually 1 hour although sometimes arrangements can be made for 1.5 or 2 hours, availability permitting.
What facilities do you have at the Centre?
We have two changing places complete with ceiling tracking hoists, four accessible toilets and two ordinary toilets, a café area and gardens (including a woodland walk), all of which are free of charge if you have booked a session in the sensory rooms but you will be sharing the facilities with other groups. We do have a large conference room and several other meeting rooms available to hire for use by groups not using the sensory facilities – please ring for details of costs.
Is there an alternative room we can use?
Yes, we have another room called the Terrace Room which you can use if available. You can also hire this room by the hour.
Can we use the café and garden facilities even if we have not booked a session in the sensory rooms?
Yes, our groups with special needs may use this facility at any time, however we would appreciate it if you could ring ahead to let us know you're coming.
Where can I park?
If you have booked a session at Space and your group has children / adults with special needs you can park directly outside the building. There are 4 minibus spaces and 13 car spaces, 4 of these are disabled spaces. As parking at Space is mainly for those with disabilities, please could other guests park either on Egerton Road or at Homebase. Please NEVER park in Whinfield Lane or Pedders Grove opposite Space as this is dangerous due to these roads being narrow and busy. For party bookings, the person who made the booking may park at the front to unload so food and drink may be brought in easily and then move to the rear car park.
Can able bodied children book the centre for parties?
Yes, up to the age of 10. Please take a look at our parties leaflet for further information.
How many children can come for a party?
For pre-school children you can have up to 25 in Space 1 and 30 in Space 2. For primary aged children the limit is 20 persons in Space 1.
My child has special needs but is in mainstream education, can we bring a mixed group of children with special needs and able bodied?
Yes, please take a look at our parties for mixed groups leaflet for further information.
Can adults with support needs book a session for a party/social gathering?
Yes you can.
Are you open on Bank Holidays?
Not usually, although special arrangements can be made. Groups have hired the whole Centre for a bank holiday event.
GETTING THE MOST OUT OF SPACE
Health & Safety
All carers using the Centre need to be familiar with the basic Health and Safety Policy and its equipment and complete their own individual Risk Assessment for their clients. The rooms can be used at a basic level for fun and experience but everything in the Space rooms is designed to help with assessment of abilities, provide stimulation & relaxation, encourage communication & movement and to give choice and control.