Testimonials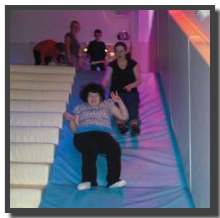 Hope School
Hope School have been using the SPACE centre's excellent facilities for many years.  As you arrive at the building there is a warm, welcoming and friendly atmosphere, the experienced staff have always made us welcome and tailor our sessions as required on that particular day.  Inside the centre we find that the multi level area is a great bonus for our students to explore, most of whom are able to climb the steps with assistance and really think that the super slide is brilliant!  The large open plan area enables the students to fully experience and explore their gross motor skills in a safe and enriched environment.  The ball pool and warm water bed provide areas for relaxation and a chance for a chill out!  Less able students are given the same opportunity to try out the great activities with assistance from the hoist into the room.  Even though we have had our own fantastic multi-sensory room we feel that The SPACE Centre provides a different multi-sensory experience with opportunities for varied active exploration and is well worth the journey from Wigan.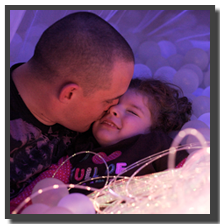 Emily 
Emily has the development of approximately a three month old and has severe epilepsy.  She needs help with everything but she loves to look around at the lights and loves the feeling of the bubble tubes and texture wall.  It's wonderful for Emily to leave the confines of her wheelchair and relax on the waterbed, or enjoy the massage bed, or for loads of fun, a few trips down the slide.  It's great to bring the family as it's one of the few places she can be on a similar level to her one year old brother.  They can play together in the ball pool or enjoy the movement of the waterbed.  They love to looking the mirrors at each other and just see one another in different lightings.  We don't know how long we have left with Emily as her condition is significantly life limiting, we're just pleased she can access a place like SPACE, with the versatility and opportunities it presents.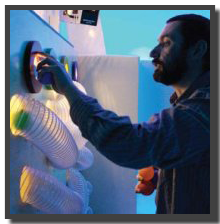 Trinity House
A group of our residents from Trinity House Lockerbie, a residential home for adults with learning disabilities and challenging behaviour travel to SPACE, a round trip of four hours, on a regular basis and there is always keen competition to be included in the group.  SPACE is like no other resource available to us.  Many places offer rest and relaxation aromatherapy and sensual stimulation, but SPACE offers these and much, much more.  The residents can exercise, run, jump, slide, shout, dance and express their individualities in an appropriate setting.  They can face personal challenges, both physical and mental, and experience a sense of achievement when they succeed.  They enjoy the freedom to choose their activities and the control this gives them, yet they are in a safe environment.  SPACE is a unique and valuable resource, staffed by friendly, helpful, understanding and encouraging people and the benefits derived by the residents made the return trip well worth while.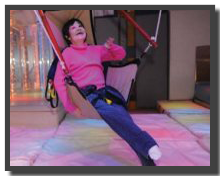 Hannah
My name is Hannah and I have been coming to SPACE since I was about 1 year old.  It was all soft and gentle then; the water bed, the massage mat, and other soft things.  Now I am nearly 15 and I am still able to go and enjoy myself, although a bit more robustly!  I love being buried in the ball pool, and I adore hiding in the hut.  The swing seat is fantastic.  The one thing that I would really love to do is to go down the slide, but I can't get up the stairs, and I am now too big to be carried!  That is why we need a new SPACE Centre – so that bigger children (like me) can experience new things.  SPACE is the best place going, there aren't any places where you can go, from the age of 0-90, and have this much fun!
Zoe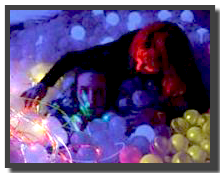 My daughter Zoe is 27 and suffered a serious brain injury 7 years ago.  Space is an amazing place for Zoe as the atmosphere and surroundings are very calming for her and she can be free from her wheelchair for a time.  She loves sitting with me in the ball-pool and she loves to stare at the coloured bubble tubes across the room listening to pop music, or whatever background sound she needs.  She is transfixed by the DVD
projections, especially Animusic, which is music played along with animation.  For Zoe SPACE is somewhere she can go that takes her away from a harsh world to a soft and relaxing place, where she can concentrate on different stimulating surroundings.  We look forward to each visit.  It is also a very special time for us, to be close in a controlled soothing world for a short while and the staff at SPACE have been so lovely with Zoe along this very traumatic and emotional journey.  SPACE is our favourite place.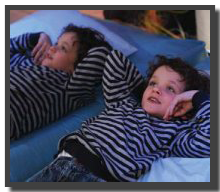 Laurence
Laurence has a dual diagnosis of Fragile X syndrome and Autism.  When he first arrives at SPACE he's anxious but once he's relaxed for a while on the massage bed he's in his element.  It's not long before he's sitting by the bubble tubes watching the colours and bubbles which bring a serenity to him that's not always commonplace.  Once totally immersed in SPACE, he's calm and totally transfixed by the big screen and the room's music, pictures and lights.  It's a time when he can be free of the barriers that his condition presents and the worst part is trying to get him to leave.  Over the years SPACE has given Laurence a place to be himself – a lovely and beautiful boy.