Getting the most out of Space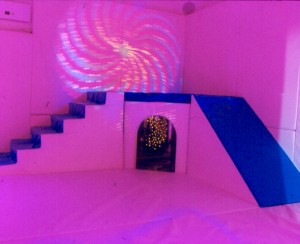 Download 'How to get the most from your session' leaflet
All carers using the SPACE centre need to be familiar with the basic Health and Safety Policy for the use of SPACE and its Equipment  and complete their own individual Risk Assessment for their clients.
The rooms can be used at a basic level for fun and experience but everything in the SPACE rooms is designed to help with assessment of abilities, provide stimulation & relaxation, encourage communication & movement and to give choice and control. Therefore there is so much potential for learning opportunities and it is HOW you use the room and equipment that determines how much you and your child/client get from the room.
"It is the skills and intuition of the carer which transforms the glitzy stimulating environment into a comprehensible chain of events" (Robert Orr)
The SPACE staff are knowledgeable and skilled in the use of the rooms and equipment and are always available to advise you during your sessions, they are called group facilitators, so PLEASE ask for help, that is what they are there for! The centre manager is a qualified Occupational Therapist with many years of experience of working with those with special needs and is available on request to assist you.  The Deputy Manager is a qualified teacher who worked as a SENCO and other staff have extensive experience in working with those with special needs.
Parents, carers and professionals can come for training sessions at Space to enable them to make the most of the facilities for the best effects for their clients. Training sessions can be arranged on request, usually 9am in the mornings before the groups arrive, but half day sessions can be arranged for schools Inset days for example. Training is free to groups who use SPACE regularly, for those who do not use SPACE regularly  may also book a training session, but there will be a charge for this, price on application.